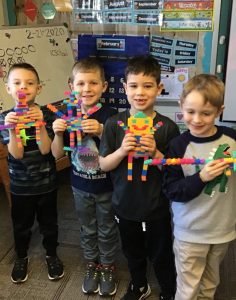 There are many reasons to enroll your child!
We offer an environment where each child is valued and challenged. Currently, our teacher to student ratio is 1/13.

Immaculate Conception School is committed to help your child grow intellectually and to become a faith-filled disciple of Christ. Students, teachers and parents have the freedom to talk about their faith.

At our parish school, your child will learn about God in their daily religion classes and in the many life lessons throughout each day.

Immaculate Conception students' record of academic success is reflected when they move into middle and high school, where their names regularly appear on their new school's honor rolls. IC students are recognized at high school graduation as outstanding, with honors and scholarships in a much higher ratio than the overall high school class.

Our caring and dedicated faculty is made up of teachers who are state licensed and committed to continuing their own education. Our faculty members on average have more than 20 years experience in Catholic schools.

We offer a safe learning environment. Controlled access to the building means that all school visitors enter through the main door, which is monitored during the school day. School personnel undergo extensive background checks before they are permitted to work with your children and are trained on how to react in emergency situations.

Beginning with the 2016-17 school year, I.C. School is teaching Spanish to students in grades K-6. Exposure to another language has many benefits for young students, including helping them to have a greater understanding of their own language. In addition, it helps them to be aware of other cultures and ways of life. All students K-6 have Spanish instruction 1 class per week.

Our school goes beyond academics. Your child will learn a love for music in bi-weekly classes with a specialized music instructor. Our Christmas and spring musical programs will give your child the opportunity to let their talent shine. Students in fifth and sixth grades can elect to be involved in the school band.

Our instructors and staff give attention to your child's physical well-being through physical education classes, good nutrition and plenty of healthy physical activity. Nutritious hot lunches are served daily in our state-approved cafeteria.

Our sports programs include basketball and volleyball. At Immaculate Conception School, students in the fifth and sixth grades are able to learn the basic skills of these team sports, as well as an attitude of teamwork and sportsmanship. In our small league of schools, our athletes have real game experiences with other teams.